By Issa Yussuf, 13 April 2014 taken from allAfrica.com
Zanzibar
—
ZANZIBAR
'S
Stone Town
, a World Heritage Site, will be improved thanks to the European Union (EU) and Rural Cooperation Association in Africa and Latin America (ACRA) supported by a three year project, which started in February this year.
Other key players in implementation of the EURO 1,200,000 project supervised by
Zanzibar
Stone Town Heritage Society (ZSTHS) include the Associazione Giovanni Secco Suardo (AGSS), Jumuiya ya Hifadhi Mji Mkongwe (JUHIMKO), and the State University of
Zanzibar
(SUZA).
A Memorandum of Understanding (MoU) for the project was signed yesterday between Mr Mohamed Bhaloo from ZSTHS and Mr Nicola Moganti of ACRA, who said that it is a unique opportunity to develop the historic town.
"This is no more than an agreement of understanding, for working together for the future of Zanzibaris, for restoring their history and heritage which we Zanzibaris are proud of," said Bhaloo at the signing ceremony held at the
Zanzibar
Music Academy Building, Forodhani-
Zanzibar
.
According to Bhaloo the project includes short courses on restoring
Stone Town
houses; and the establishment of laboratory experiences for analysing materials used in restoring Stone Town houses in collaboration with SUZA.
"The project will also work with Karume Institute of Science and Technology in creating a curriculum on restoration and civil engineering on Stone Town heritage buildings; and to have joint meetings with our partners and various stakeholders on the inheritance of our
Zanzibar
heritage history and culture," he said.
Bhaloo, the Chairman of ZSTHS said that the project will also include the training of teachers stakeholders, partners and students, and during the implementation, jobs will be created for about 15,922 people including carpenters, site service men and women, and entrepreneurs.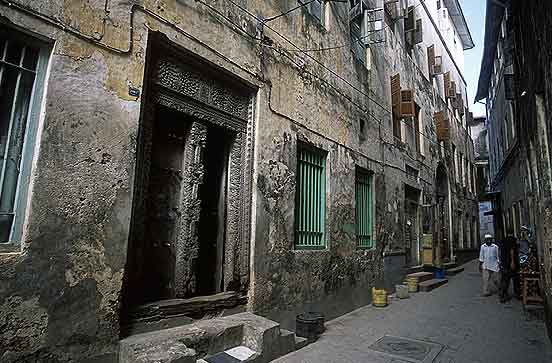 "Schools, teachers, students, and residents of
Stone Town
will benefit," Bhaloo said as he called upon residents of
Stone Town
to cooperate during the project aiming at conserving the famous tourist city in East Africa.
Taken from:
http://allafrica.com/stories/201404140766.html
[15.04.2014]